Full Stack Ruby on Rails Weekly Bookmarks - #42
---
Why We Need More Women In Tech
Common concerns and solutions... because tech is for anyone who cares about it.
---
---
Dominant hand respecting design
I'm Kitty Giraudel, a non-binary trans frontend developer based in Berlin, focused on accessibility and inclusivity.
---
---
Practicing engineering transparency
Being more transparent as a Staff+ engineer can help build trust and encourage best practice across entire engineering teams.
---
---
This article explores how to use markdown in Ruby. Learn how to use two popular Ruby libraries—Redcarpet and Kramdown—to parse...
---
Zero downtime Rails migrations with the PlanetScale Rails gem
Learn about the Ruby on Rails workflow that protects your database and application from accidental downtime and data loss.
---
---
Only Product Management Frameworks You Need | Railsware Blog
Our top picks of the most practical product management frameworks for decision-making, prioritization, product metrics, and agile development
---
How GoodJob's mountable Rails Engine delivers Javascript importmaps and frontend assets
GoodJob is a multithreaded, Postgres-based ActiveJob backend for Ruby on Rails.
---
---
Comparison of MRSK and Fly.io
---
In relentless pursuit of some parts of REST
If we want clients to create small controllers and use resources in their routes, it's a good idea to know...
---
---
We're Building a New Design Sprint Guide
We've been running design sprints for over 10 years, it's time for us to share everything we know about them...
---

rubyandrails.info
is an incredible resource for Rails developers thanks to
@lucianghinda
Great work and thank you!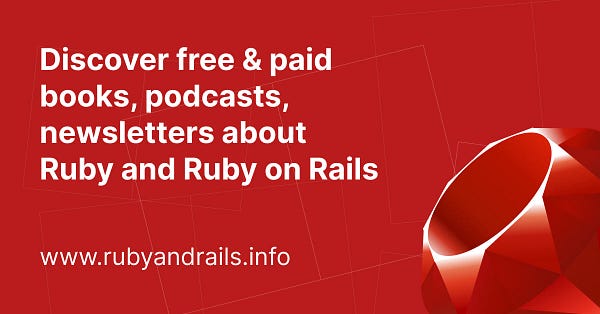 rubyandrails.info
Discover Ruby and Ruby on Rails materials
Discover free and paid books, newsletters, podcasts about Ruby & Ruby on Rails in one place.
---
How to not get into trouble with Active Record
Follow good practices with Active Record to make sure that your application's performance is on a good level and the...
---